Vacuform Industrial Double-Press
The Vacuform Industrial-Double Press is a large seized membrane press manufactured in a
sturdy and robust steel construction
.
The opening of 75 ° and a working height of 715 mm enable an
easy loading
with a crane. It is possible to walk on the working surface for the positioning of work pieces.
The alignment of the machines allows pressing in turns according to the production flow. The machine has a
precise FESTO pressure control
linked with a 200l vacuum tank.
With the
SIEMENS control
it is possible to press in an
automatic modus and manual
as well.
The large scale of the press enables to press
high work pieces with little effort
. Various membranes can be changed quickly, according to the pressing task.
The Vacuform Industrial Double-Press is
easy to operate
. The robust constructed machine guarantees a
long lasting value
of this investment and an
extended service life
.
The membrane press was designed to
press HGV side panels
in a sandwich construction.
The Vacuform Industrial-Double Press is capable to
press all types of large scale parts
and work pieces.
Producing of composite materials with a core layer of honey comb, foam and softboards.
Veneering and coating of large boards with various materials, such as HPL, metal films, felt, structured surfaces up to recycled timber.
Laminating of big shapes, such as desk carcasses, half round columns, large claddings, reception and bar counters.
Forming of preheated materials, such as solid surface materials (Kerrock, Corian, LG Hi-Macs) and plastics. The silicone membrane is heat resistant up to +220 °C.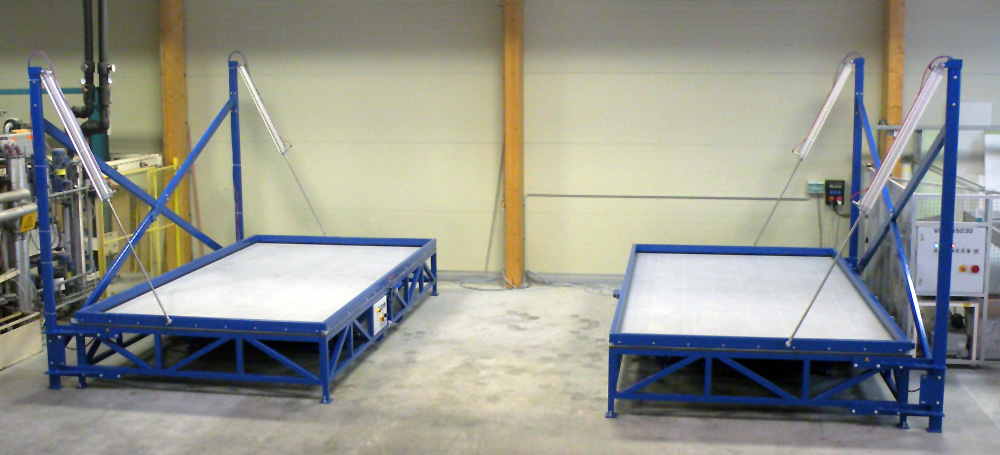 Optimal bracing with welded lattice girders - also under the working surface.
The table can be adjusted precisely to correct an uneven floor.